Mastering
Let's give an edge to your sound!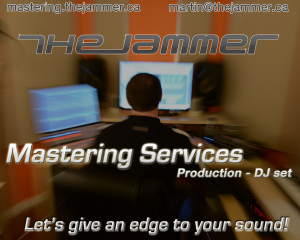 In the last three years, I have done mastering on various projects. From electronic music to acoustic, I am able to help you getting the sound you were always looking for! I will be working with you as a team to help you develop your sound in your production and give it the edge that you have always wanted at the final stage.
I am doing lots of different things in regards to Mastering. Don't hesitate to contact me if you would like to have an idea how I can help you with your project. Here is a list of things I can do, but do not hesitate to ask for anything else not listed here, my passion goes far beyond this list…
Electronic Music Mastering (Track, EP or Album)
General Mastering (not electronic)
Mixing by stems or instruments
Simple setup recording
DJ Set
Pricing
I do not have a predefined list of price for each service, because each project is really unique. Contact me to have a quote for your project, via the contact form or via any of my social network links.